Children's and Household Tales, The Valiant Little Tailor
Edit
German original
Edit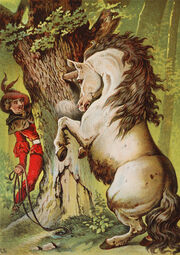 Der Schneider begerte die Tochter mit sammt dem halben Königreich; der König, als er sahe die Riesen erwürgt, deswegen er seine Tochter dem unbekannten Krieger sollt zur Eh geben, war ihn seines Verheißens sehr gereuen, gedacht, wie er doch sein mit Fügen mögt abkommen, dann er ihm die Tochter zu geben keineswegs gesinnet. Dem Schneider noch einmal sagte, wie er ein Einhorn im Walde hätte, das ihm so sehr großen Schaden an Fisch und Leut thät, wenn er dasselbige fing, wollt er ihm die Tochter geben. Der Schneider war dessen wohl zufrieden, nahm ein Stricklein, ging zum Wald, befahl seinen Zugeordneten, heraußen zu warten, er wollt allein hinein, spazierte also im Walde umher. Indem ersah er das Einhorn gegen ihn daher springen, der Meinung ihn umzubringen; der Schneider aber war nicht unbehend, wartete bis das Einhorn gar nahe zu ihm kam, und als es nahe bei ihm war, stellte er sich hinter den Baum dabei er zu allernächst war; das Einhorn aber, so sich in vollem Lauf nicht wenden konnt, mit dem Horn in den Baum lief und also darin unverwendt stecken blieb. Als solches der Schneider sah, herzuginge, dem Einhorn den Strick, so er mit sich genommen hätt, um den Hals thät und an den Baum bande, hinaus zu seinen Gesellen ging, ihnen seinen Sieg über das Einhorn anzeigt, solches hernach dem König zu wissen thät, welcher außer der Maßen traurig war, nicht wußt, wie ihm zu thun wäre, dann der Schneider der Tochter begert.
English translation (Margaret Hunt, 1884)
Edit
The little tailor demanded of the King the promised reward; he, however, repented of his promise, and again bethought himself how he could get rid of the hero. "Before thou receivest my daughter, and the half of my kingdom," said he to him, "thou must perform one more heroic deed. In the forest roams a unicorn which does great harm, and thou must catch it first." "I fear one unicorn still less than two giants. Seven at one blow, is my kind of affair." He took a rope and an axe with him, went forth into the forest, and again bade those who were sent with him to wait outside. He had not to seek long. The unicorn soon came towards him, and rushed directly on the tailor, as if it would spit him on its horn without more ceremony. "Softly, softly; it can't be done as quickly as that," said he, and stood still and waited until the animal was quite close, and then sprang nimbly behind the tree. The unicorn ran against the tree with all its strength, and struck its horn so fast in the trunk that it had not strength enough to draw it out again, and thus it was caught. "Now, I have got the bird," said the tailor, and came out from behind the tree and put the rope round its neck, and then with his axe he hewed the horn out of the tree, and when all was ready he led the beast away and took it to the King.