Bestiaire d'amour
Edit
French original
Edit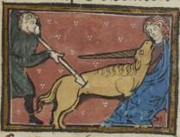 Par le flairier meisme fui-je pris come li Unicornes qui s'endort au douc flair de la pucele.
Car tieus est la nature del Unicorne qu'il n'est nule beste si crueuse à prendre; et a une corne en la narine que nule armeure ne le puet contretenir, si que nus ne li ose corre sus ne attendre, fors virge pucele. Car quant il en sent une au flair, il s'agenolle devant li et si s'umelie docement aussi come por servir. Si que li sage veneor qui sevent la manière de sa nature metent une pucele en son trespas et il s'endort en son giron. Et lors quant il est endormis, si vienent li veneor; qui en veillant ne l'osent prendre, si l'ocient.
En tel maniere s'est amors vengié de moi. Car j'avoie esté li plus orgueilleus vers amors qui fust de mon aage, et me somblout que je onques n'avoie veue feme que je vousisse mie avoir del tot à ma volenté, par si que je l'amasse aussi très durement comme je ooie dire c'on amoit. Et amors qui est sages veneres me mist en mon chemin une sage pucele à qui doceur je me sui endormis, et mers d'itel mort come à amor apertient. C'est desesperance sanz atente de merci.
Por ce di-jou que jou fui pris au flairier et encore m'aelle adiès tenu au flairier. Et ai ma volonté lessie por la siue à porsivir.
English translation (Jeanette Beer, 2000)
Edit
I was captured also by smell, like the unicorn, which falls asleep at the sweet smell of maidenhood.
For such is its nature that no beast is so cruel to capture. It has a horn in the middle of its forehead which can penetrate all armor, so that no one dares to attack or ambush it except a young virgin. For when the unicorn sense a virgin by her smell, it kneels in front of her and gently humbles itself as if to be of service. Consequently, the clever hunters who know its nature place a maiden in its path, and it falls asleep in her lap. And then when it is asleep the hunters, who have not the courage to pursue it while awake, come out and kill it.
That is just how Love avenged itself on me. For I had been the haughtiest young man of my generation toward Love, and I thought I had never seen a woman that I would want for my own, a woman I would love as passionately as I had been told one loved. The Love, who is a clever hunter, put a maiden in my path and I fell asleep at her sweetness and I died the sort of death that is appropriate to Love, namely despair without expectation of mercy.
And so I say that I was captured by smell, and my lady has continued to hold me since by smell, and I have abandoned my own will in pursuit of hers.
La response de la dame
Edit
French original
Edit
Et si quic bien que contre li se pue-on pau garder: Nient plus come on fait del Unicorne, dont jou ai enten dut de vous que à li ne se puet contrester haubers ne escus, fors tant que prisse est, par la decevance, à la vraie Virge.
Par ma foi! de ceste Unicorne me douteroie-je molt: car je sai bien que si trenchans chose n'est come beaus parlers. Car à droit parler, nule chose ne puet si tost un dur cuer percier, come douce parole et bien assise!